Nowadays a Google Chrome browser is everyone's best and lovable browser. Did you know that why this happens, it is because they are fresh and excellent features in their extensions? Chrome Extensions are one of the best ways to customize your Google Chrome browser from.
There are the many chrome extensions which you use every day, but some of them are your top best favorite one. So, today we show you some all new best chrome extensions that you will surely love it to use day by day, and forget about the old ones.
So here are the some 15 Best Google Chrome Extensions you can surely try once.
15 Best Chrome Extensions
#

1Password

: Password Manager and Secure Wallet
1Password is a password manager that goes beyond the simple password storage by integrating directly with your Google Chrome browser to automatically log you into any website that you want to. There are also many remarkable features in that.
With 1Password, you will never forget your password again.
Features:
Easily generate strong Passwords
Fill Registration Forms
Enter Credit Card information securely
# 

FVD Downloader

(Flash Video Downloader)
FVD Downloader or the Flash Video Downloader is a downloader tool for the Google Chrome from which you can download any videos or flash videos from any of the websites.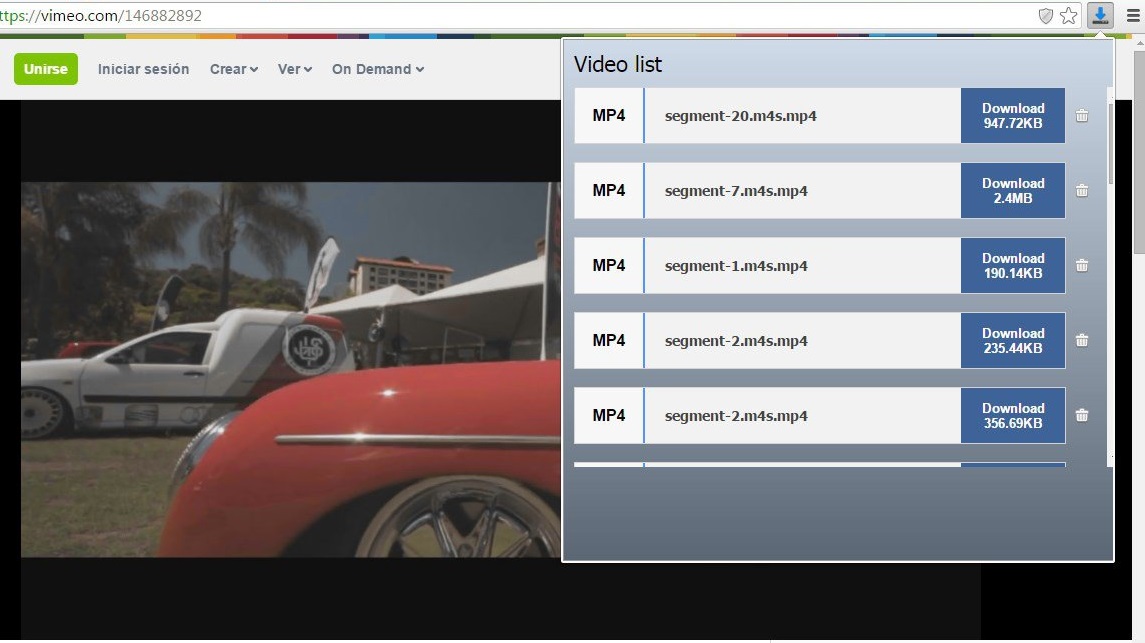 With the FVD Downloader (Flash Video Downloader), once the videos are downloaded, you can watch them anywhere without the internet connection.
Features:
Multiple videos can be downloaded simultaneously
Can hide the app icon and restore it easily
Sownload a video without any prompt
Anonymous download statistics
No special skills required
# 

Google Office Editing

: Docs, Sheets & Slides
Office Editing for Docs, Sheets & Slides is also one of the best editing extensions for your docs, slides and sheets files.
Supported Formats:
.doc
.docx
.ppt
.pptx
.xls
.xlsx
From the Office editing chrome extensions, you can view and edit Microsoft Word, Excel & Powerpoint files with the google docs, slides, and the sheets and can be accessed anywhere. It stores all the data and syncs with the cloud to give you the advantage to access them.
Features:
Runs offline too
Accessbility on any device or place
Edits Microsoft Office files easily
Mulitple Format Support
# Strict Workflow
Strict Workflow is again one best chrome extensions which enforce a 25min/5min. (25 minutes of distraction-free work and 5 minutes of break) workflow. If you want it again repeat it if necessary.
Features:
Easy to use
Blacklist or Whitelist
Easy to personalize
Easy to get started
How to use it?
Click to start 25 minutes work timer & work without distraction anything.
Click to start a 5 minutes work timer for relaxing and kick back.
Repeat until necessary, or all your work is done.
Permissions:
Your Tabs & browsing activity
Your Data on all websites
# Minimalist for Everything
Minimalist for everything is very powerful extensions for your chrome web browser. It allows you to change your Gmail look to make a little less hideous. For any advanced thing, you will need somehow CSS coding.
Needed somehow scripting and CSS coding knowledge.
Features:
Built-in development tools
Syntax highlighting in module code editor
Simple Dashboard
Powerful and easy to use options pages for modules
Quick access controls
Pages for customization options for Google reader & Gmail
Take your Data Anywhere
# 

TunnelBear VPN
Using a VPN is always a good way to protect your browsing history from getting tracked by your ISP or the already present script on websites. A VPN creates a virtual address for you and thus saves your browsing data from being tracked and thus TunnelBear VPN does the same with a single click.
Using Tunnelbear, you can access blocked websites and censorships private networks of more than 22 countries. It also provides the best connectivity and speed in comparison with the other VPN extensions. TunnelBear is free for download with limited data of 500 MB/month. If you need use more than that, you can either opt for the monthly plan at $9.99/month or yearly plan at $4.99/month to access unlimited data.
Features:
Lightning Fast Browsing Speed
Worldwide Network with over 22 countries
Multiple Devices for upto 5 Devices
uses strong AES 256-bit encryption by default
Stores no log of customers using it
# 

HTTPS Everywhere
HTTPS Everywhere is a port which automatically switches thousands of sites from insecure 'HTTP' to secure "https". Https everywhere protects you against hijacking, against many forms of surveillance and also some forms of censorship.
If HTTPS everywhere causes a website to look break or weird, you can disable it for that website using the button in the address bar in the top right of the screen. Watch for a shield button there in the address bar, which means the chrome blocked insecure portions of the page. Sometimes pages will look weird with their insecure portions removed.
#

 

The Great Suspender
The Great Suspender automatically suspends unused tabs in Chrome browser to free up system resources.
It is a lightweight google chrome browser extension which helps you to reduce the google chrome's memory for users. This extension will automatically upload each tab while retaining its title text & favicon.
Features:
Keeps a history of suspended pages
Can easily suspend or reload all open tabs
Boosts browser speed
Automatically suspend tabs that have been idle for five minutes to twelve hours
# 

Grammarly

: Spell Checker and Grammar Checker
One of my favorite Google chrome extension is this 'Grammarly Spellchecker and grammar checker' extensions. It is a useful extension that you surely loved it if you are working online or writing anything online. It works great for all type of writing including Work, Personal, or Academic.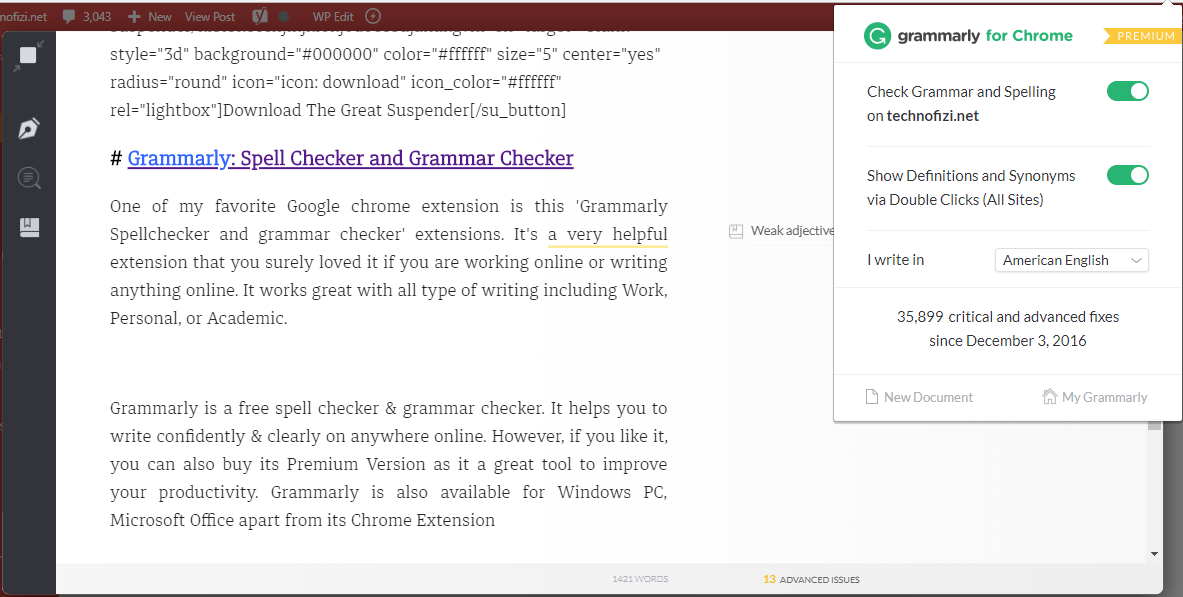 Grammarly is a free spell checker & grammar checker. It helps you to write confidently & clearly on anywhere online. However, if you like it, you can also buy its Premium Version as it a great tool to improve your productivity. Grammarly is also available for Windows PC, Microsoft Office apart from its Chrome Extension
Features:
Check your writing across the web
Use native desktop apps (Windows and macOS)

Access your documents on multiple devices

Access your editor via Grammarly.com

See definitions and synonyms via double clicks

Catch contextual spelling and grammar mistakes
# 

Adblock

& Adblock Plus: Best Adblocker Extension
Adblocker and Adblocker plus both are the most popular plugin to increase your productivity. The ads and pop-ups always annoy you and distract you. To remove those the Adblocker is always helping you. It will easily block all the ads like Google ads, Facebook, Youtube, pop-ups and so on. To install it not a massive task, just one click installation process.
There are two plugins we mention as Adblocker and Adblocker Plus, both are works same, but they have some difference. The difference between Adblock vs. Adblock Plus is Adblock is their availability on the Google Chrome, Safari, and the Mozilla.
Features:
Block Ads
Allow Acceptable Ads
Disable Tracking
Disable Malware Domains
Disable Social Media Buttons
# 

Privacy Badger
While you are browsing over the Internet, Privacy Badger is a great extension which protects your online privacy. Using it you can block spy ads or invisible trackers running on the websites to ensure none can track your Browsing without your agreement.
Today, tracking the user data over websites is one of the most significant problems, and it thus generates information about the user too. Moreover, to stop getting targeted ads delivered to you, you can use Privacy Badger and disable the invisible trackers.
Features:
Support for "incognito" or "private" browsing
Import/export capabilities to export your tracker data to other browsers
User interface translation for non-English-speaking users
Blocks to prevent HTMLl5 "ping" tracking
#

Any.do
Any.do is one the great cross-platform app for to-do list and with its availability on Chrome, it makes it easier to sync your tasks and checklist from any of your devices installed with Any.do app or extension.
Using it, you can create lists, reminders and can modify them with just drag and drag support; You can also add notes to your tasks and later share them with your colleagues or family and thus makes your work easy to organize your schedule.
Features:
Search tasks on the web app
Review your completed tasks
Set Moment for a particular time
Email tasks directly to you are Any.do list
# 

Tab Wrangler
Chrome is the most preferred browser all over the world and is amazingly flexible. However, running too many tabs on it can eat up your RAM like nothing else and results to freeze your device. So, for the person who ends up opening lot of tabs, Tab Wrangler is the one for you
Tab Wrangler works by closing the inactive tabs but saving all the tabs in its "Corral" and thus lets you open the tab with a single click. If you do not want any particular tab to be closed, you can pin them, so you can avoid it closing by Tab Wrangler.
Features:
Automatically closes idle tabs after designated time
Saves closed tabs, easy to re-open
Chrome sync saves settings between computers
Doesn't close pinned tabs
Lock tabs from closing
#

Full Page Screen Capture
Using [PrtSc] and pasting it on Paint to save the file, everytime you want to save some image or webpage offline is a time-taking task. Using Full Page Screen Capture can make that work easy, by just tapping [Alt+Shift+P] to grab the full screen.
Using it you can also capture the scrolling window, and while doing that it is advised not to move your mouse until it finishes capturing. After it captures the screen, the resulting image opens in a new window and can be downloaded.
Features:
one-click full page screen-capture
Supports scrowling window capture
Prevents the scrollbar to appear on MacOS
Lets you open a new tab with your screen capture
# 

Highly Highlighter
Highly Highlighter is one the most rated highlighter extension on Chrome Web Store used for social sharing and highlighting your desired content to save your favourite phrases or articles. Using Highly Highlighter you can easily snap text from your webpages you are browsing.
Apart from just highlighting, using it also allows you to share those snippets through different social media platforms quickly or you can also choose to mail to the selected contact. You can also organize your highlights and follow others users.
Features:
Highlight Anything
Follow the Reader
Share the highlighted part with your friends
Can easily search previous highlighted content
Conclusion
These are some top best chrome extensions which you can use to make your life easier and simpler. Hope you will surely like these chrome extensions for your Google Chrome web browser. If helps you in many ways !!
Also, do tell us your favorite chrome extension or if we have missed any useful one in the comment section below.
Edited By: Abhiyanshu Satvat