There is no doubt that video content is on the rise. YouTube, the most popular video streaming site, has become a well-known platform for content creators. Not just YouTube, there are many other websites on the internet that pay users to create unique videos.
Now that everyone has an Android smartphone and likes to watch videos, it could be a good time to step over to YouTube. However, making videos at regular intervals is not as easy as you think. There are many things that a creator should consider before publishing the video.
Creating video content can be expensive because we need the right tools and resources. Therefore, to make things a little easier for you, we will share some of the parts best free stock video sites to grab unique clips.
Also Read: Best Websites and YouTube Channels to Download Non-Copyright Music
List of the best free stock video sites
Just like stock photos, you can use these stock videos without any worries. You can add these videos to your content to make it more impressive. So let's take a look at the list of the best free stock video websites.
1. Mix kit
Mixkit may not be as popular as the other sites on the list, but it's still one of the best options. This site offers thousands of free stock video footage for website backgrounds, music videos, promo videos, advertisements, etc.
Almost all the videos listed on the site are free to download and use, and you don't need to sign up. Talking about the video categories, Mixkit allows you to choose from different categories such as business, fashion, travel, technology, performing arts and more.
2. Coverr
Coverr is another great stock video site where you can download high quality videos for free. The videos available on Coverr have no watermarks and do not require attributions. The site offers many video categories such as nature, people, love and relationships, virtual backgrounds, fitness, etc.
Almost every video hosted on the site is free to download and use. So, Coverr is another best stock video site where you can download free videos for your projects.
3. Pixabay Videos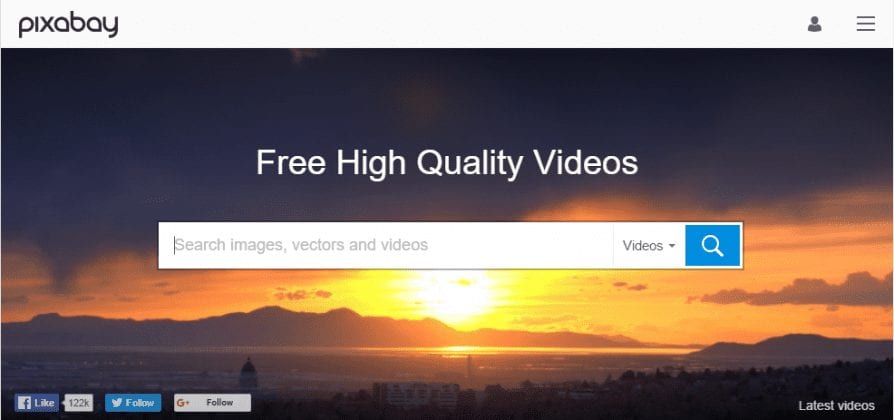 When it comes to stock photos and videos, Pixabay seems to be the best option. As of now, Pixabay offers over 1.2 million photos and videos for free.
You can use any videos released under the Creative Commons Zero License for your online or offline project. The platform has a lot of stock videos. You have to dig deep into the platform to explore the unique videos.
4. Pixels
Pexels is another best website where you can get both free stock photos and videos. Like the photos, videos also fall under the Creative Commons Zero license on Pexels.
The great thing about Pexels is that you don't have to create an account to download the videos. There is no limitation for downloading videos.
5. Videos
Videvo also has a lot of stock videos that you can use without giving any credits. What's more interesting is that Videvo also allows you to contribute your videos for others to download.
That means if you are a creator, Videvo can serve as a platform to showcase your creative talent. If you want to download stock videos for free, I can tell you that there are many royalty-free videos that you don't have to attribute the authors to.
6. The life of videos
If you are looking for a free video site that is updated regularly, Life of Vids might be your best choice. The site is known for its robust video collection and you can find many unique clips on the platform.
The site's UI is pretty clean too; you can download any video and use it for personal and professional use.
7. Videezy
Videezy is another best website you can visit to grab free video clips. The great thing about Videezy is its interface, which is well organized. The site has a separate panel for HD videos. Apart from that, you can find videos of different categories.
The site offers both premium and free videos; you have to use the filter option to get the free videos.
8. Film Supply
Filmsupply is a video site, but mainly has premium footage. When you sign up with an account, you get three free clips that you can use for any commercial project. The premium footage available on the site has a majestic, cinematic feel to it.
The site allows you to search for videos by keyword, category or mood. Yes, the price of each footage depends on your requirement.
9. Rocket Supply
Shuttershock has now acquired RocketStock and offers plenty of unique video clips. However, RocketStock houses more premium footage compared to the free ones. You can still find some valuable clips on the site for free download.
10. Video Play
Vidsplay is another best stock video site with tons of free video content. The great thing about Vidsplay is that the site is updated weekly.
That means you can expect more fresh content every week. The site provides a search bar that you can use to search for the desired video clip. However, Vidsplay does not contain 4K videos.
11. Mazwai
Mazwai is a free listed stock video website known for its curated, hand-picked videos.
All videos hosted on the site are hand-picked by an in-house team of video professionals, have easy licensing, and no sign-up requirements.
The site lists the most popular video categories right on the home screen so you can choose the one you want.
12. Free Nature Supply
Free Nature Stock is another great free stock video site on the list that is known for its 4K and HD nature stock videos.
Almost all the videos available on the site are free for commercial and personal projects.
13. Movement Elements
Motion Elements is a site that offers royalty-free stock videos, music, and templates for anyone who wants to create videos.
If you are a video creator, you should not miss this site. It is a one-stop destination for all your video needs.
There is also a premium plan that allows for unlimited downloads. Overall, Motion Elements is a great free stock video site you should consider.
So, these are the best free stock video sites to get free videos. You can use these videos on your social media or any other campaign. So, what's your take on this? Share your thoughts in the comment box below.